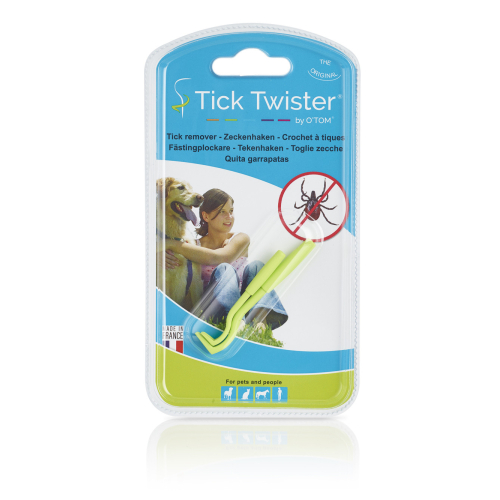 The indispensable accessory for removing ticks !
Tick Twister® enables a safe tick removal. 
Tick Twister® enables a quick and painless tick removal. 
Tick Twister® doesn't leave the tick's rostrum in the skin. 
Tick Twister® doesn't squeeze the tick's abdomen. 
Sold in pack of 2 hooks (one large and one small). 
Exclusive internet offer, free shipping worldwide !
With its 5 bright new colours, removal of ticks become more fun !
Tick Twister® is a set of instruments specially designed to remove ticks from the skin of animals and people. It is an instrument that allows the user to hold the tick without compressing it and to remove the tick by twisting motion rather than pulling. This technique is safe and remove ticks completely!
"Finally a surefire way to get rid of ticks .... The ultimate anti-tick weapon ... a small ergonomic miracle, easy to use and fast." - N.C., veterinary surgeon
Tick Twister® is sold in blister pack. Each blister pack contains 2 Tick Twister® hooks, a large one for removing engorged ticks and a small one for removing very small ticks (from 1/10 of a millimetre).